And Now, Computers… for WOMEN!
Hear that? It's the sound of the glass ceiling shattering into a million pieces—because now, for the first time in HERhisstory, Dell has made their computers accessible not only to men, but to female people!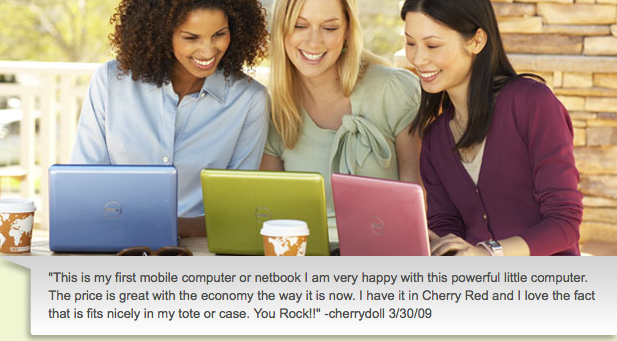 Dell has launched a new site for female laptop buyers, Della, which shows you how to use your computer to "track your food intake", "find recipes online", and "watch yoga videos". (Note how the computers match their owners' clothes: because we all need a $1200 accessory. Also note "cherrydoll"'s authentically mispunctuated comment: because syntax is for boys!)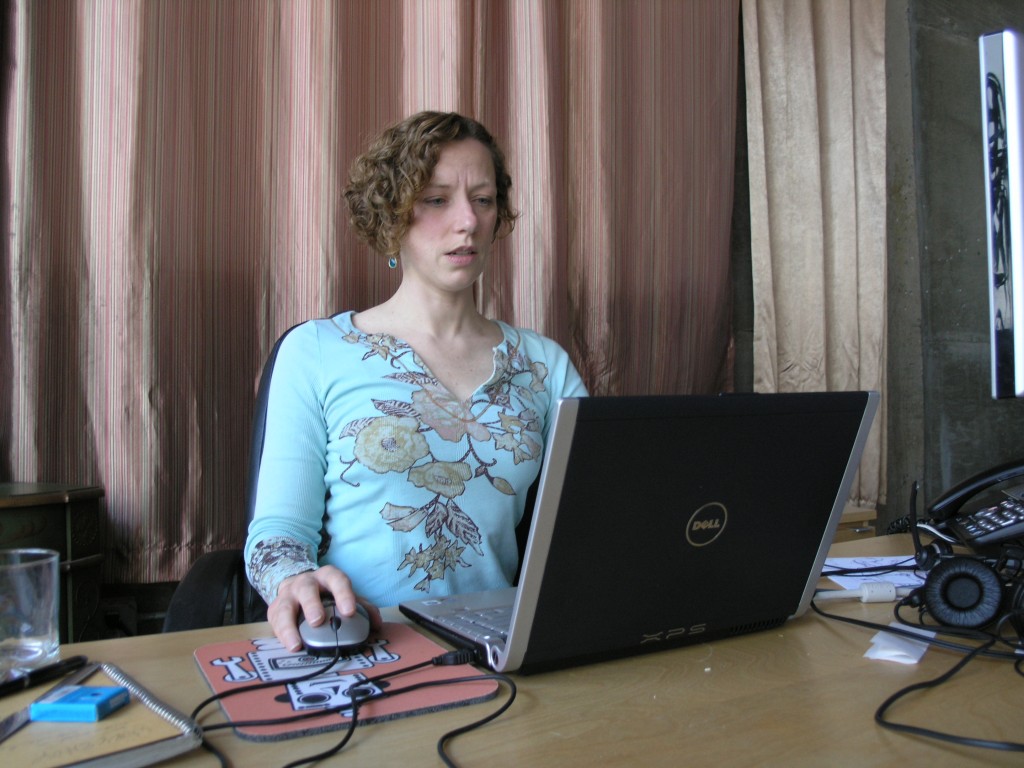 Above is a picture of me, yes, a woman, with the last Dell I will ever own.  It's my current laptop, and I chose it because I needed a computer powerful enough to run screensharing tools and high-res video; I needed mobile broadband to stay in touch with my clients and employees, and not just my kid (heresy!); I needed my screen to look great when I go to meetings with clients.
That is to say, I needed it for work.
Dell, let's make it official: you can bite me and the millions of other women who take themselves and their technology seriously.  This makes me sad, because I used to like Dell.
Here's what I'm guessing happened:  you did the wrong kind of research.  You relied on surveys that genericized women's desires as consumers.  You asked lifestyle questions instead of focusing on people's real-life behaviors.  You knew that some women find technology intimidating (newsflash: so do some men), so you set out to transform the laptop into a lifestyle product.  You handed that brief to your designers, and then—assuming you tested this on any actual users at all—you asked them if they "liked" it or if it made them feel comfortable.
Well, guess what?  You missed the entire point.  Just making your site easier to understand and navigate would benefit all your users, male and female, and wouldn't be that hard to do.  But by making it a gender issue, you gave yourselves permission to avoid the challenges of explaining new technology in plain English, and you just stuck on a fluffy front end to mollify dumb girls.  I haven't been so disgusted with a tech company in a long, long time. It seems lots of other people are talking about it and they aren't too happy.
-Cyd
Tags: bad research, dell, della, women