Giving Great Talks: A Mashup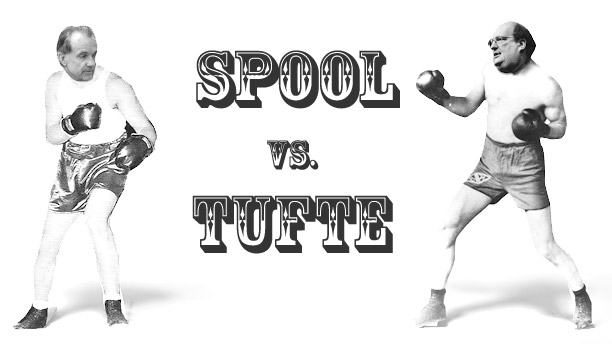 I had the privilege of Jared Spool attending and critiquing some of my recent talks, and in preparation for a UIE webinar I'm giving, he took time to rip me apart give me some awesome feedback. His advice reminded me of notes I took almost ten years ago at an Edward Tufte seminar about giving great talks, and so the next logical step was to make old-timey boxing photos of them both and write a mashup of their talking tips. RIGHT? Both Jared Spool and Edward Tufte are known to be kick-ass speakers in the technology field – Tufte is all up in the freaking white house, and Jared speaks roughly 400 days a year around the world. I think we can learn a lot from their advice, and despite the artificial conflict introduced with boxing pictures, their tips are mostly complimentary.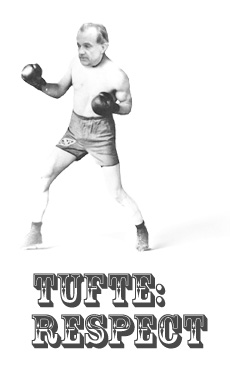 1. Show Up Early and Finish Early
Tufte would simply like everyone who gives a talk to be ready on-time and finish early. Simple right? He thinks nobody ever complained at having an extra few minutes for questions at the end. He also makes the point that we have a tendency to dumb down information too much, and feels that this is disrespectful to the audience. He says that just because people show up for your talk, they are not all of a sudden stupid. So speak to them like you would a trusted colleague, and finish a few minutes early. You'll leave people feeling grateful and they can always come talk to you with any burning questions. This shows respect for peoples' time, in addition to their intellect.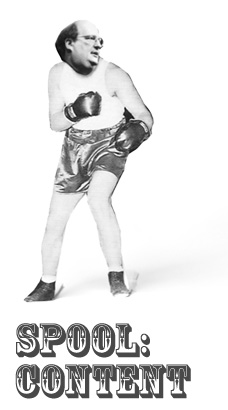 2. Don't Be The "Fun Cool Guy" at The Expense of Content
Jared's first feedback for me was that I sacrificed content in previous talks to seem fun and cool, and still did this a little in my most recent talk at Interactions '10 in Savannah. I tend to agree, so this one is pretty straightforward. I concentrated more on creating fun slides and jokes, which meant sacrificing some focus on the serious meat of the talk. I'm sure nobody would look at this blog post here with 4000px of photos and 945 words and make the same criticism. But I would add that doing the opposite – putting your content at the expense of audience engagement –  also sucks. Ever been to CHI?
3. Your Intro was Seven Minutes. Stop That.
As long as you have a somewhat established background in what you're giving your talk about, skip the introduction and dive into the material right away. Jared timed my introduction and it came out to seven minutes. He suggested that was "way too fucking long," and that I could have given contextual background information at the relevant parts of my talk. For example, when I mention how we did remote card sorting for Oracle, say that it took over 8 years and 200 studies to experiment with these methods. If you consider this paragraph analogous to the structure of a talk, I just nailed this very principle. Oh, and I'm Nate Bolt. This coincides almost perfectly with what Tufte calls the "Particular-General-Particular" strategy. Speaking of which…
4. Particular General Particular (PGP)
The first thing you do in your talk, before you even say hello, is to give your audience a nugget of information – something of value. Say right away that less than 5% of user research is conducted remotely, to give people an information pay-off right away. Then explain it in general. Repeat. This point is so crystal clear it's almost ridiculous, but I dare you to remove your boring intro slides and canned spiel about who you are. It feels wrong. But it works great.
5. Reference Specific Work Examples
Jared said that the most interesting points of my talk were when I referenced research we did for Princess Cruises as a success, or Habbo Games as a failure. For Princess, we were able to recruit groups of family members to conduct research with them about their cruise-planning process, and it turned out that their behavior (emailing each other and not talking) didn't match their description of the planning process (we all talk about it). Are you wondering about Habbo now? See what I just did there?
6. Giving a Talk Means Never Having to Apologize
Don't call attention to the meta-structure of your talk and thus take focus away from the content. A friend of mine, Steve Dodson, calls this "editorializing" during a talk. For example, avoid the temptation to say "Sorry this slide is a little hard to understand, but I'll explain it." That is a huge mistake. Nobody will notice anything wrong with your slide, and if they do, let them silently judge you and keep going. For the 90% of people that didn't notice your mistake, you will have never interrupted their experience.
7. No Telegraphing
Jared pointed out that in my most recent talk I told the audience three times that I was going to "cover this more in detail later," and he was quick to make it clear that this was a really bad idea. It pulls the audience right out of the talk. It's also a form of editorializing from the last point, and it starts people thinking right away about something else that will happen in the future. This means they stop paying attention to what you are currently saying because it has suddenly become less interesting and important. My tendency is to want to assure people that I'll cover everything they might be wondering about, but the truth is if I respected my audience more I would know they have the patience to at least wait until the talk is finished to judge me. So don't be afraid to be judged at the end of the talk, instead of during the middle.
8. It's a Story, Stupid
If there is any possible way to construct a traditional Hero's Journey, or Monomyth, do it. Don't skimp on the story in your talk. Even something as mind-numbingly boring as remote user research can have a story built around it. Jared's suggestion was to tell how we begin looking at this vast world of UX tools and methods, whittle it down to one, what successes and failures we ran into with that method, and how in the end we triumphed helping our clients build some amazing experience. I've since created a character named "Marv," inspired by our stop-motion animation studio, to use in presentations: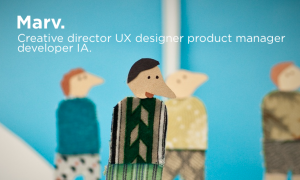 9. Leave Something For the Q&A, Bro
If you neurotically anticipate every question your audience could possibly have, and include answers in your slides as a desperate attempt at seeming wise, there will only be silence at the end. Think about a few potential common questions about your talk, and leave room for the audience to ask those questions. You know what's coming, and they get to ask. This is also called "Winning."
Watch Me Fuck Up and Learn
Now for the most embarrassing part. I make almost every single one of these mistakes in my talk at the IxDA conference "Interactions" in February of 2010. It's gut-wrenching for me to watch this and see how badly I violate most of these rules, but maybe you can learn from my mistakes. MAYBE. Got any tips of your own? Think you're tough enough to take on Tufte and Spool with a disagreement? Drop it all in the comments.
And the updated slides by themselves: