New Ethnio Pricing
I'm extremely excited to be nearing completion of the first big redesign of Ethnio in over three years, and want to send out a big thank you to everyone who has been using and talking about Ethnio lately for making this possible.
Still Months Away.
As part of the redesign, we're introducing brand new monthly pricing. I'll be alerting current customers and users over the next couple weeks, and the new pricing won't go live for months, but I wanted to pass on our thoughts about the change and provide some details for anyone that's interested, especially since folks like Geckoboard are explaining their pricing in such a great way. So these are the big Ethnio pricing changes:
Monthly pricing instead of per-recruit pricing
A starting plan at $49/month that is $351 cheaper than our previous cheapest plan of $400 for 200 recruits.
Unlimited recruits for most plans
"By traffic" pricing similar to Typekit
A new free plan that offers 200 recruits for non-profits, good causes, and any small web sites
Current paid customers get two months free
Since most people use Ethnio by placing our JavaScript code on their web site, our biggest single cost has been the infrastructure to keep up with that code living on hundreds of web sites. Even if the ethnio recruiting screeners are turned off, our server still gets a request every time someone loads a page on any of those sites containing Ethnio code. What that has meant over the last few years is that we are up to nearly 3.4 Million pageviews PER DAY for the Ethnio JavaScript.
That's a lot.
It's an especially large amount of traffic for a UX research and design firm of five people, with a team of one person who manages, designs, and supports Ethnio (I'll give you a hint – that's me). Over the past year as Ethnio has got onto more sites, we have optimized, cached, and gotten very clever with how that code is handled, but when a gigantic web site like Wikipedia or Levi's uses Ethnio, or even hundreds of small ones, it costs us a ton. But there has been no way to correlate traffic with our ethnio pricing, because we had no way to differentiate between the downtime while our code has slowly been getting placed on many of the largest sites on the interwebs – Sony, Careerbuilders, Intuit, Mint, HP, Pogo, and on and on. Which is great. We love it. Thank you! People are doing better recruiting and starting to really use our little research recruiting web app that I started in 2004. But we needed some way to differentiate costs to our server from dormant Ethnio code. It turns out one handy thing about JavaScript is that it can very easily can track all this traffic on our customers' web sites.
Size matters jokes are stupid.
So the new pricing works based on the size of your web site, not really how much you use Ethnio. The idea is that if you have a small web site, Ethnio will be close to free, but if you have a huge web site with lots of traffic, your cost for keeping ethnio code live on your pages will simply be more. Not crazy expensive by any means, but between $49 and $299 per month. You can cancel any of the monthly plans at any time and maintain access to your account and all data. If cost is a huge concern, you can even remove the Ethnio code and only place it live when you need it, or wrap it in a high traffic code to reduce impact to our servers. But at most of our customers' organizations, adding and removing code is a difficult task with IT, and so we believe there is value in being able to leave the ethnio code lying around until you have a research study, and being able to instantly flip the big on/off switch inside Ethnio. You'll also be able to send exactly the right kind of people to other tools like surveys with the new version of Ethnio, so you can begin using it as a live intercept wrapper for all your research needs. This screen shot below isn't final yet, but this is roughly the new pricing: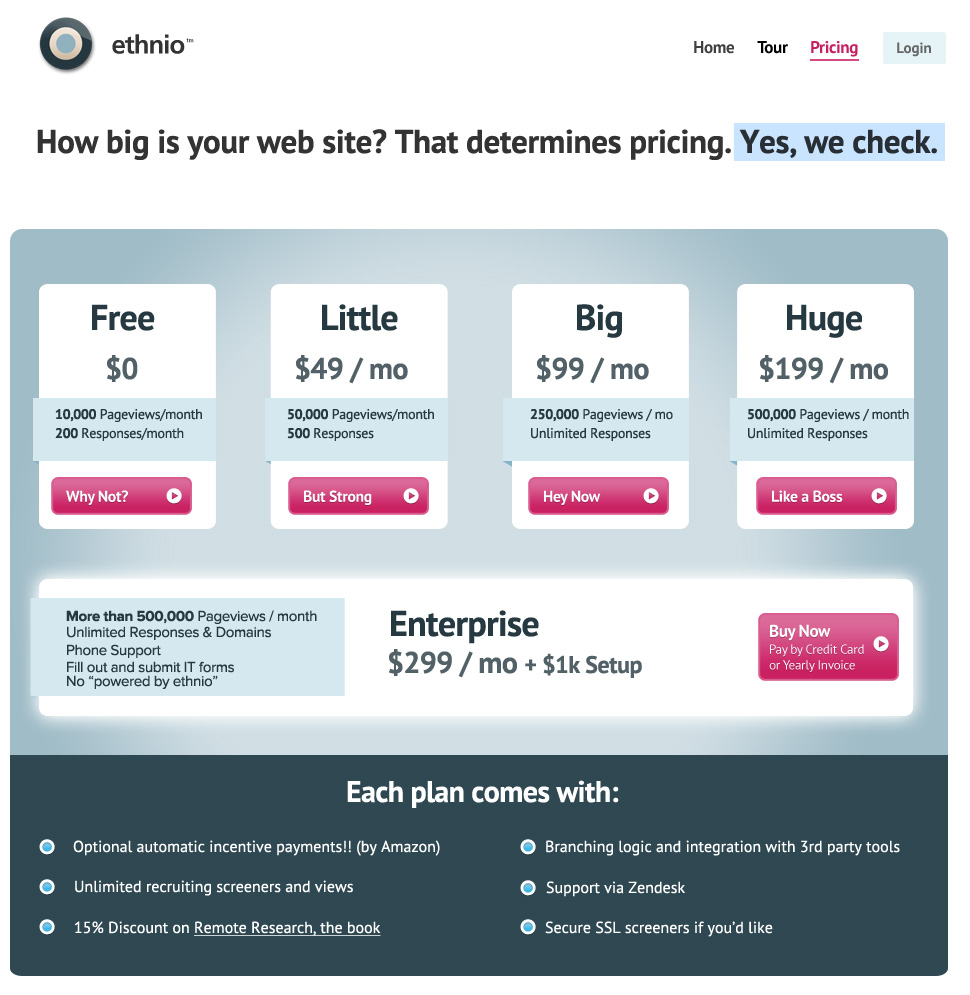 The pageviews listed above mean that if you have up to 10,000 pageviews on your site or any page, then Ethnio is free. This has nothing to do with views of ethnio screeners – it's simply pageviews of pages that contain the Ethnio code. If you have up to 25,000 page views than you should get the "Little" plan. If you have more than 500k pageviews per month, we'll put you in an Enterprise plan. If you're not sure exactly how many page views a particular page or set of pages you'd like to recruit from receive, you can always place the ethnio code and we'll tell you from inside ethnio. That's pretty much it. Would love to hear any questions or feedback in the comments, via twitter, or via email at info@ethnio.com.